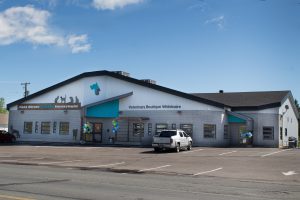 Treatment: This is where we spend a lot of our time.  This is the area we prepare our surgery patients, sample collection (i.e. blood urine etc.), place IV catheters… Also in our treatment area are some of our cages, we like having them in this area so our trained technicians can have easy access to our patients while they are staying in our care.
Traitement: Nous passons une grande partie de notre temps dans cette salle. En effet, c'est ici que nous préparons les patients pour la chirurgie, que nous prélevons des échantillons (ex : de sang, d'urine, etc.), que nous posons les cathéters intraveineux, etc. Nous avons aussi quelque une de nos cages dans la salle de traitement. Ainsi, nos techniciennes ont facilement accès à nos patients pendant qu'ils sont sous notre responsabilité.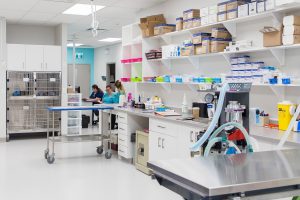 Dentistry:  This area is our dentistry room, where we clean polish, extract and do digital dental x rays.
Dentisterie: C'est dans cette salle que nous donnons les soins dentaires à nos patients. Nous y faisons donc le nettoyage, le polissage, l'extraction et les radiographies dentaires numériques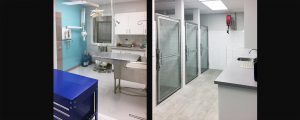 Kennel Rooms:  Our dog kennel room has four large dog runs and five smaller cages, we also have a separate room for the cats with six cages.
Chenils : Nous avons quatre grandes et cinq plus petite cages pour chiens dans notre chenil, nous avons aussi une salle séparé pour les chats qui contient six cages.
Surgery room: has two surgery tables where all our veterinarians can perform routine and some orthopedic surgeries.
Salle de chirurgie : Nous disposons de deux tables d'opération et nos trois vétérinaires sont qualifiées pour pratiquer des chirurgies de routine et certaine chirurgie orthopedique.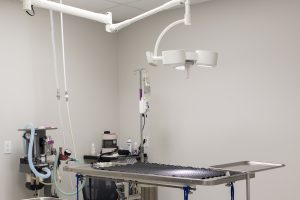 This is the X-ray room: We even have a digital x-ray machine and ultrasound
Salle de radiologie : Notre salle de radiologie est équipée d'un appareil de radiographie numérique et d'une machine à ultrason.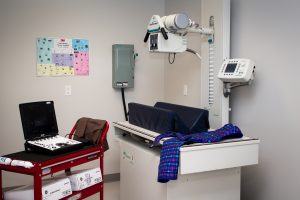 Reception/ Waiting room area: the reception desk is where our fabulous receptionist will be happy to meet and greet you, behind the desk there are prescriptions kept to be picked up.
The waiting area situated in front of our front desk, is where our clients can have a seat and choose from multiple reading material.
Réception et salle d'attente : À la réception, vous ferez la rencontre de notre réceptionniste, qui vous accueillera avec le sourire. Au bureau de la réception les clients peuvent venir chercher leurs prescription.
La salle d'attente est située en face du bureau de la réception et les clients peuvent s'y asseoir et trouver de la lecture parmi les nombreux documents qui s'y trouvent.
Exam rooms: we have a total of 5 exam rooms, 4 rooms are divided by our three veterinarians and 1 room are for the technician appointments.
Salle d'examen : Nos trois vétérinaires se partagent quatre salles d'examen, et il y a une salle pour les rendez-vous de technicienne.
Lab/Pharmacy area: our lab allows us to perform routine testing.
Laboratoire et pharmacie : Notre laboratoire nous permet d'effectuer des tests de routine.
Canine cafe and boutique: Our different life stage diets and other diets are also placed in the boutique, the only type of food that will not be found in our boutique is specialty foods.
Café canin et boutique:  Dans la boutique, vous trouverez aussi nos différentes sortes de nourriture adaptées au stade de vie ou à la diète des animaux, à l'exception de la nourriture spécialisée.